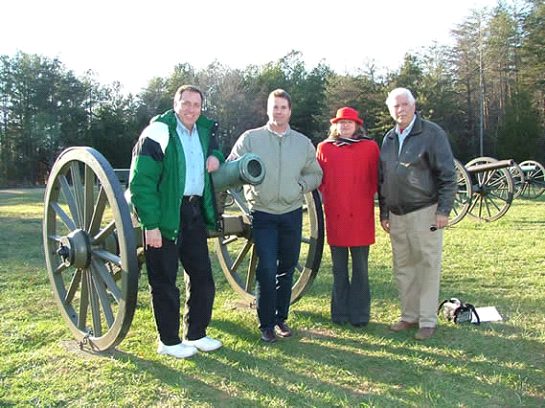 This wonderfully immersive program is unlike anything your group or organization has experienced in the name of team-building and learning together. Guaranteed.
Gary's creative Battlefields to Business program is a unique learning adventure. It's an experience, not just a seminar. His customers tabbed it as "the ultimate adult field trip."
Whether you choose to hold your program at a historic site or a battlefield, Gary and his associates will lead your group or executive team on a learning journey that gives relevance to the lessons of history and applies them to the challenges facing your business or team in today's always-changing marketplace.
As Gary likes to point out, "The roads of history bring us back to today."
Here is how it works
Gary customizes each program just as he does with his speaking and training clients. He'll work to understand the key issues and challenges facing your group. He then goes to work drawing similarities between those challenges and the actual historic event in areas such as: Leadership, planning, accomplishing goals, strategy and tactics, communication, accountability, effective use of resources, succession planning, teamwork, etc.
Your group will enjoy an immersive tour of the actual historic site or battlefield with professionally licensed guides, stopping at key points and discussing the iconic events that took place there. Participants will experience first-hand the uniqueness and importance of the various locations. You'll walk in the actual footsteps of history. The program then evolves into a workshop (or a working lunch or dinner, if preferred) to examine and discuss where the lessons of history can be applied to aid your current business situations in order to help move your organization forward.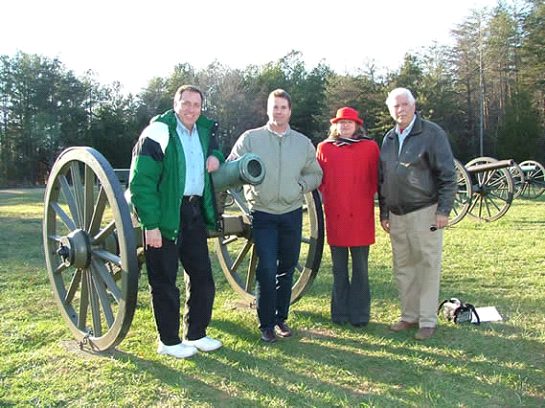 The US Army Program Executive Office – Enterprise Information Systems "Staff Ride" chose the Chancellorsville battle site (pictured above) for its Battlefields to Business program. The 80-person event opened with a luncheon workshop in Fredericksburg, VA, where Gary outlined various business elements for participants to look for on the tour that would relate back to their modern-day situations. Following a customized tour of the battlefield, the group returned to its hotel for an evening dinner program where Gary led a discussion of the day's findings. Specific elements of the battle were assigned to each table so that the participants could work together, examining and applying the lessons from history to their own business challenges.
Here's what clients say about this dynamic program
The PEO-EIS chief executive Gary Winkler and his group were extremely pleased with the entire program:
"Gary, thank you for everything you did for us at the offsite. You made a difference in providing that linkage between the historical battle and the leadership lessons learned. It was obvious that you really knew the material inside and out, and you did a great job with the facilitation."
The Virginia Business Opportunities for the Blind engaged Gary for a Battlefields to Business program centered at the Fredericksburg battlefield (see photo below), with a post-tour workshop and lunch in their Fredericksburg hotel. Gary led the discussion of the participants' business takeaways from their tour and how they could apply the lessons back to their own businesses.
Margeaux Egorova, the group's event planner, had a lot to say about the success of the program:
"Being that our business owners are legally blind and ranged from partial impairment to total impairment, Gary was able to add the dimension of physical experience to our seminar. He did the research of what options were out there and took the time to really dive deep into how to acquire relics for them to feel and experience. He made sure everything behind the scenes was solid. It was wonderful how well he communicated things to me so that there were no surprises. Gary was able to make me feel like his area of our conference was solid from the planning to the execution of it. There was no need for me worry about his part of our weekend. He truly superseded the expectation of a really hard-to-impress group. Gary gave a group that thought they had nothing new to learn a breath of fresh air, an arsenal of ideas, and golden nuggets to take back to their businesses."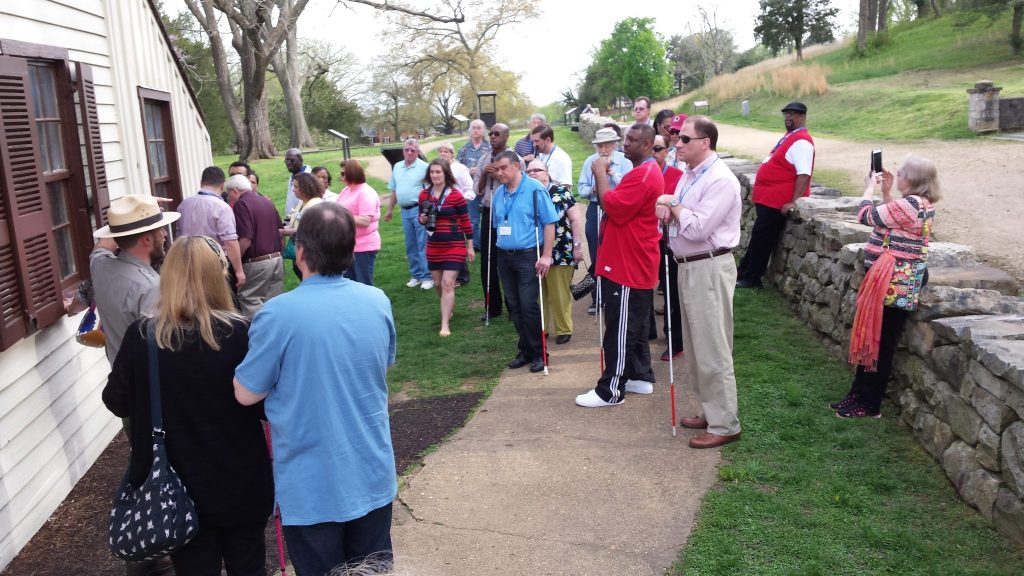 It's experiential, it's different – and it will be a memorable day for your group
Fredericksburg's Director of Tourism Sales, Victoria Matthews, engages Gary's programs for her clients who want to Twist the Familiar and treat their group to a unique learning experience:
"Gary and Scott Walker (battlefield guide) did a terrific job of customizing this program for a client that plans everything to the nines. Gary had several detailed discussions with them in advance in order to provide the customization that they were looking for. In fact, during the tour the clients asked him, 'OK, Gary, so where is our next one going to be?' They wanted another Battlefields to Business experience with him."
Contact Gary today to have your group or organization experience "the ultimate leadership field trip."
---