Why select Gary for your next program or event?
A client of Gary's (a corporate event planner and college faculty member) recently said of his work, "I personally love his boots on the ground, you've got to live-it-to-know-it approach. He's inspired many professionals and students over the years…"
It's a very important role, addressing a room full of people all looking for something a bit different to take away from the presentation. Enlist Gary Hernbroth as a speaker for your upcoming program and you will get a true partner who takes that role very seriously. He knows that you have entrusted him with your organization, and that is a responsibility that he respects and cherishes.
As a very relatable speaker and business coach, Gary commits to giving his audiences impactful and memorable takeaways — tools and inspiration that they can put into immediate use in their roles. He tailors his messaging to educate, elevate and entertain.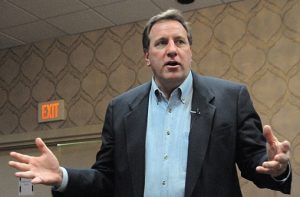 Gary's clients have tabbed him as their "strength & conditioning coach" for good reason. Nationally recognized as a provocative straight-shooter from the stage or the boardroom, he makes a pact with his audiences that he will give them everything he's got, whether the goal of the presentation is to inspire, entertain, challenge, or move them to action.
If you want a canned approach, he's not your guy. One reason Gary endears himself to audiences is because he puts the work in ahead of time to customize his message. He gets up to speed on the group's industry, its buzzwords and its trends.
Event planners find Gary extremely easy to do business with, as he is one less speaker they have to worry about regarding hitting pre-conference deadlines and delivering quality performances.
Different strokes for different assignments
Whether a session is more of a technical nature geared toward in-the-trenches tactical solutions, or a higher-altitude motivational message, Gary delivers the goods by focusing his message on what matters most to his audiences. He stays true to his mission, not his ego.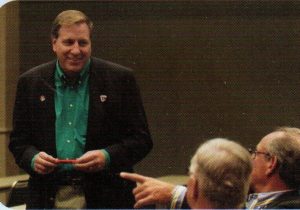 Gary has the uncanny ability to connect with people from a wide variety of industries and across many different levels in an organization, from owners to front-line teams. He has inspired hotel owners, university students, non-sighted business owners on a battlefield program, professional golf tournament directors, meetings industry event professionals, municipal attorneys, restaurant franchisees, and corporate credit managers, to name a few.
Gary takes on all kinds of assignments, including the tough ones. People respond to his forthright and energetic approach, from the light and breezy presentations to the ultra-serious ones. To illustrate, as a keynoter he has energized large gatherings at fun, upbeat national sales rallies and also taken on the very serious topic of the breach of ethics that was happening across a professional association's membership.
Enjoy these exciting podcast samples with Gary speaking on timely topics:
ShiftShaper Podcast featuring critical keys to personal branding
Hear Gary on this insightful episode of The ShiftShapers Podcast, hosted by David Saltzman: "What Does Your Brand Say About You?" Gary shares how to cultivate your own personal brand and the importance of authenticity. He also discusses the top characteristics of a salesperson, such as listening and follow-through, plus how to leverage authenticity in order to create a lasting business partnership.
Ep #323: What Does Your Brand Say About You? – With Gary Hernbroth – ShiftShapers Online
Ambitious Entrepreneur Show with Annemarie Cross: Leadership In Times of Change
Gary shares some of his bedrock attributes for effective and timely leadership for owners and those leading teams in these oft-changing times that are full of plenty of headwinds coming from all directions.
What Leadership Is In Times Of Change With Gary Hernbroth (ambitiousentrepreneurnetwork.com)
Ready to talk? Let's do this!
Enlist Gary as your speaker or coach and let him go to work for you at your next event. Your team or audience will thank you.
His programs are available via in-person, virtual and hybrid deliveries.
Testimonials
"From the moment you took the stage and proceeded to dramatically recreate the vivid images of a Civil War battlefield, I, along with every other person assembled in that ballroom experienced the full range of emotions-- doubt, fear, indecisiveness—as if we, too, had been transported to that battlefield where leadership decisions held life or death consequences.
And, the way you skillfully maneuvered your audience from the battlefield to the boardroom was masterful, applying lessons learned from one setting to the other in a seamless fashion, proving that history has much to teach us in our corporate responsibilities. I know I don't have to tell you—because you heard it from our members themselves that day—how moved we all were by your presentation!
You re-focused us to consider all the consequences of our corporate decision-making. You were truly inspirational and I sincerely appreciate how you customized your presentation for our audience."
2019-01-21T19:58:04+00:00
- Historic Hotels of America/Preferred Hotels
"From the moment you took the stage and proceeded to dramatically recreate the vivid images of a Civil War battlefield, I, along with every other person assembled in that ballroom experienced the full range of emotions-- doubt, fear, indecisiveness—as if we, too, had been transported to that battlefield where leadership decisions held life or death consequences. And, the way you skillfully maneuvered your audience from the battlefield to the boardroom was masterful, applying lessons learned from one setting to the other in a seamless fashion, proving that history has much to teach us in our corporate responsibilities. I know I don't have to tell you—because you heard it from our members themselves that day—how moved we all were by your presentation! You re-focused us to consider all the consequences of our corporate decision-making. You were truly inspirational and I sincerely appreciate how you customized your presentation for our audience."
https://trainingforwinners.com/testimonials/historic-hotels-of-america-preferred-hotels/
"I rarely come across real talents who stand out like Gary. His ability to captivate and engage with our attendees was unlike any I've seen before… The feedback from my attendees also showed we made a great choice choosing Gary to speak … He earns my highest recommendation."
2019-01-22T15:21:34+00:00
- Meeting Professionals International
"I rarely come across real talents who stand out like Gary. His ability to captivate and engage with our attendees was unlike any I've seen before… The feedback from my attendees also showed we made a great choice choosing Gary to speak … He earns my highest recommendation."
https://trainingforwinners.com/testimonials/meeting-professionals-international/
"Thanks for all the time and energy you put forth a very successful guest service training for us… you truly took what's important to Marriott and transformed it into an fun, productive, and interactive day… the associates came back really energized and thought it was great! You really understood our company's directives and needs."
2019-01-22T15:22:41+00:00
"Thanks for all the time and energy you put forth a very successful guest service training for us… you truly took what's important to Marriott and transformed it into an fun, productive, and interactive day… the associates came back really energized and thought it was great! You really understood our company's directives and needs."
https://trainingforwinners.com/testimonials/marriott/
"Gary is a true professional. He is a wonderful speaker because he engages your attendees like no other. I love the way Gary gets a conversation going and draws out attendee passion. His discussions tackle tough issues and he gives you solutions to get the job done — that's rare! Gary is fun and approachable. I love to hear him speak, and you will too!"
2019-02-12T21:31:01+00:00
- Marin Bright Founder/CEO, Smart Meetings
"Gary is a true professional. He is a wonderful speaker because he engages your attendees like no other. I love the way Gary gets a conversation going and draws out attendee passion. His discussions tackle tough issues and he gives you solutions to get the job done — that's rare! Gary is fun and approachable. I love to hear him speak, and you will too!"
https://trainingforwinners.com/testimonials/smart-meetings/
"Gary, you certainly connected with our members! Their comments included: 'One of the best presentations we have ever had'; 'One of the better motivational speakers I have heard'; 'Excellent presentation - Gary's tools were what I really needed to energize myself.'
We very rarely rate speakers as high as our members rated you. It makes me look like I know what I'm doing when selecting speakers!"
2019-03-25T23:24:17+00:00
- Mailing and Fulfillment Services Association
"Gary, you certainly connected with our members! Their comments included: 'One of the best presentations we have ever had'; 'One of the better motivational speakers I have heard'; 'Excellent presentation - Gary's tools were what I really needed to energize myself.' We very rarely rate speakers as high as our members rated you. It makes me look like I know what I'm doing when selecting speakers!"
https://trainingforwinners.com/testimonials/mailing-and-fulfillment-services-association/
Some of Gary's most-requested speaking topics include:
---
Personal Branding: YOU Are the "X-Factor!"
The Road Trip Ahead: Mapping Out Our Journey to Setting & Accomplishing Goals, Navigating Our Progress, and Overcoming Those Times When Shift Happens
Customer Service Excellence: Making EVERYONE in Your Organization a Salesperson; Solutions For Helping the Get 'ems and the Keep 'ems To Work Together Better
Working Your Sales Funnel For Success — What is it? What's in it? How does it work? What affects it most?
Management & Leadership: A 5-Star Leadership Model; Managing in a Multi-Generational Workforce; Managing vs. Leading — There is a Difference
Powerful Lessons For Today's Leaders: It's Not For the Timid
What's Behind the Curtain of Hotel Negotiations: Examining the Elements That Can Give You Real Negotiating Power
Teams Without Accountability Are Teams Destined To Be Average
Using Failure as an Attribute (Ways to make yourself stand out as a job candidate or for a promotion by illustrating how you learned and recovered from setbacks)
Kick Up Your Sales Games/Sales Motivation/Sales Rally/Selling Topics
RFP: It Doesn't Have to Mean "Really Frustrating Process"
Action-Planning and Achieving Goals; How to Bring All of Your Resources To Bear
Tearing Down Silos and Creating Seamless Operations
Using Social Media to Build your Network & Business
Building, Nurturing, and Motivating Teams; The "Sweet 16 Attributes of Winning Teams"
Embracing your "4 Ps" (People, Products, Procedures, Prices) to Improve Your Deliverables, Strengthen Your Team Synergies and Increase Your Business Levels
Buyers & Sellers: Tackling the Tough Issues Together; Relationship Selling & Buying is Still Alive; Kicking Up Our Games in Order to do Better Business Together
S.P.E.E.D. D.A.T.I.N.G. — The Recipe For Making the Most Out of Your 10 Minutes to Glory (referring to appointment shows)
Mentoring and Coaching: They're Similar, Yet Different (Also: Mentoring and being mentored: Ensuring the vibrancy for the next wave in your industry
A Sampling of Gary's most-requested speaking and training/coaching topics includes:
| | |
| --- | --- |
| ASSOCIATIONS & CORPORATIONS | |
| American Association of Pharmaceutical Scientists | Communications and Team-Building for Managers |
| California Association of Health Facilities | The 3 P's of Customer Service Excellence, The "WOW" of Customer Service, Management & Team Building |
| Canadian Music Week | Providing Winning Customer Service |
| Diablo Valley (CA) Women in Business | Golf as Business - The analogy of golf to business and life: Goal-Setting, Planning, Execution, and Overcoming Adversity |
| Electrical-Electronics Materials Distributors Association | People Still Buy From People: Selling Tools and Marketing Techniques |
| League of California Cities | Managing Your Moments of Truth |
| Mariner Post-Acute Network | Supervisory and Customer Service Excellence |
| National Association of Physician Recruiters | Business Ethics, Time (Self Management), Finding New Sources of Business |
| National Fire Protection Association | Management and Team-Building / Communication |
| PGA TOUR/Buy.Com (now Web.com) TOUR | Going "Fore" the Green - Finding New Revenue & Sponsorship Opportunities |
| PGA TOUR Tournaments Association | Finding New Sponsorship Opportunities, Managing Volunteer Teams |
| Woodworking Industry Conference | Business-to-Business Sales and Service |
| Woodworking Machinery Industry Association | People Still Buy From People |
| | |
| --- | --- |
| HOSPITALITY & MEETINGS INDUSTRY | |
| American Society of Association Executives | Leadership Keys, Negotiating, Emotions of Buying & Selling, Relationship Selling, Time (Self) Management, Helping Buyers Buy |
| Association for Convention Marketing Executives | Building Strong Teams and Organizations / Leading a Sales Team |
| Fredericksburg Area Tourism & Counties of Spotsylvania and Stafford | Making EVERYONE a Salesperson and Building A Community Marketing Effort |
| HSMAI (National) | General Manager's Conference: Managing Sales Teams and Selling Efforts |
| HSMAI Affordable Meetings | Working With Hotels – How To Create Win-Win Partnerships |
| HSMAI Chapter of the Virginias | Hunting for New Business, Directing the Directors of Sales, Negotiation Surgery |
| HSMAI Northern California Chapter | New Strategies Needed To Win in this Changing Market |
| International Association of Convention & Visitors Bureaus | Leadership and Management, Team-building, Understanding Personalities |
| Meeting Professionals International | Contracts & Liabilities, Sales, Negotiating, Putting the "WOW" into What We Do |
| MPI Institutes | Legal Aspects of Negotiating, Writing a Great Contract |
| MPI Potomac Chapter (PMPI University) | Buyer-Seller Relationships / The Ethics of Buying and Selling |
| MPI Sacramento Chapter | Working Sales Leads / Partnership Selling |
| MPI Virginia Chapter | It's a War Out There – How to Find New Business and Survive |
| MVP MAST Vacation Partners – Agents Conference | Putting WOW into Your Customer Service / Selling in a Downturn Market |
| National Trust for Historic Preservation/Historic Hotels of America | Making EVERYONE in an organization a salesperson! |
| Northern California SAE | Negotiating Skills |
| Professional Convention Management Association | Small business=Big Business, Managing Our Moments of Truth to Increase Sales |
| San Mateo County Convention & Visitors Bureau | CVB & Member Sales "Boot Camp" |
| SportsTravel Magazine – TEAMS Conference | Buyer or Seller – Who Has the Power? & Selling to the Sports Market |
| USA Hosts, Inc. | Client / Sales Relationships & Multi-Unit Referrals, The Power of Referrals |
| Virginia Governor's Conference on Travel & Tourism | Making EVERYONE a Salesperson / Building Teams for the Future, Hunting For New Business |